Hemodialisis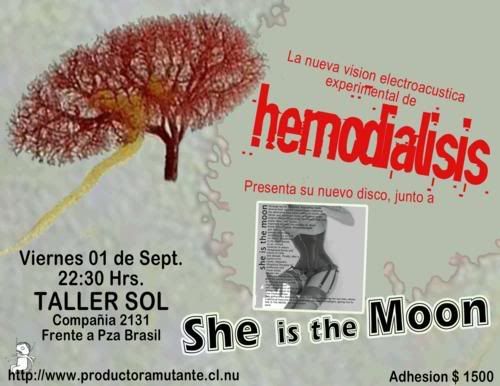 Este Viernes 01 de Sept, tendremos un lanzamiento doble de Discos.
HEMODIALISIS
Una nueva visión de la música electroacústica la cual es desarrollada mediante los procesadores clásicos: cintas, procesos electrónicos, filtros de señal, circuit bending, etc todo esto acompañado de los textos matristicos de Pablo Velis y Renato Dennos; Hemodiálisis es una experiencia sonora.
SHE IS THE MOON
Da sus primeros pasos en Argentina el año 2004 donde por primera vez en sus composiciones utilizan simultáneamente tecnología e instrumentos del rock, fusionando el noise, el rock alternativo y bases electrónicas.
Tuka Smith – Dimofi´s & Monkey, Bussines Experimental Music Fusion Alternative.
SHE IS THE MOON cuenta con su primer album "Becarefull with she"
Editado el 2005.
La invitacion esta hecha, este Viernes 01 de Sept, vallan a disfrutar de estas refrescantes propuestas sonoras.
Siempre en el Taller Sol, Compañia 2131, Frente a Pza Brasil.
Desde las 22:00 – Adhesion: $ 1500.-